Diagnosing a child with an Autism Spectrum Disorder (ASD) can be challenging because of the varying features of these disorders and because of the inconsistencies among the various diagnostic classification schemes (e.g. ICD-9, ICD-10, DSM-IV, DSM 5) that might apply at any point in time.
Those experienced with HealthChoices claims processing are undoubtedly familiar with the HealthChoices Behavioral Health Services Reporting Classification Chart (BHSRCC), which specifies valid combinations of procedure code, modifiers, provider type, specialty code and diagnosis codes for HealthChoices encounter data.
According to line 46 of the BHSRCC, claims for BSC services must have the procedure code H0046, and providers must have specialty code 558 (Behavioral Specialist for Children with Autism). These requirements are consistent with OMHSAS Bulletin 14-02, which instructs providers on how to enroll and get paid for delivering BSC services to children with autism.
However, with the implementation of ICD-10 in October, 2015, OMHSAS seemingly narrowed the definition of autism by restricting the list of acceptable diagnosis codes that can be used. Previously, OMHSAS accepted all ICD-9 diagnosis codes within the range 299.00 to 299.91.
Currently only the following ICD-10 diagnosis codes are considered valid:
F84.0 Autistic disorder
F84.5 Asperger's syndrome
F84.9 Pervasive developmental disorder, unspecified
Listed below are the ICD-9 diagnosis codes and descriptions in the 299.00 – 299.91 range along with their ICD-10 cross references. ICD-10 codes excluded under the current version of the BHSRCC are highlighted below.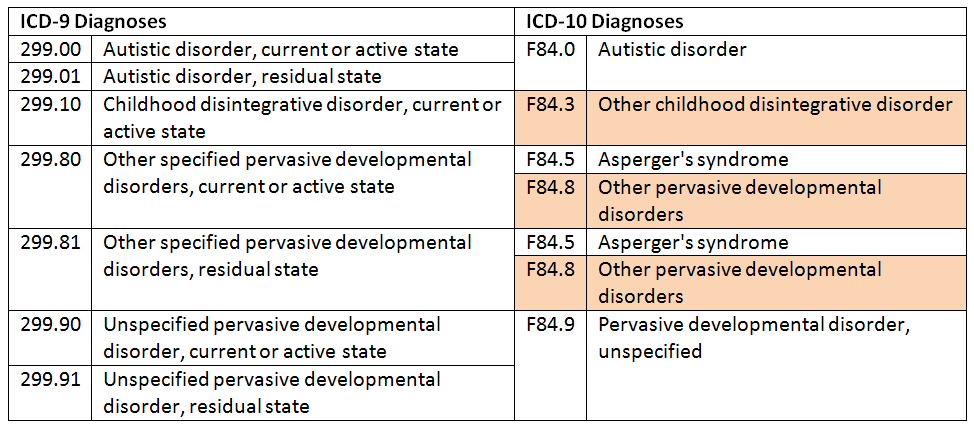 The OMHSAS Policy Department is apparently reviewing the situation with the goal of making a final determination as to which codes are acceptable.