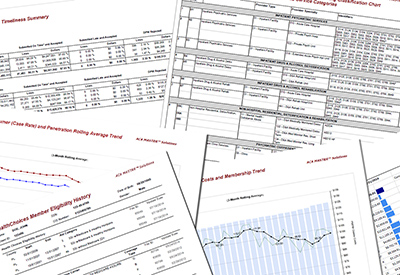 Monitoring Reports
ACA's expertise in data validation and warehousing provides the foundation for our MASTRR™ Solutions suite of reports. Their web-based structure provides the agility to respond quickly to requests for new reports or updated information.
MASTRR™ Monitor reports focus on critical aggregate and case-level information in a range of areas including:
Individual Member Eligibility
Member Service History
Paid Claims Summary Information
Readmissions
Utilization and Penetration Rate Trends
Equipped with these reports, our clients can monitor their program's operations from the macro to micro level, and respond with confidence to any routine or ad hoc inquiries originating internally or from outside monitoring agencies.